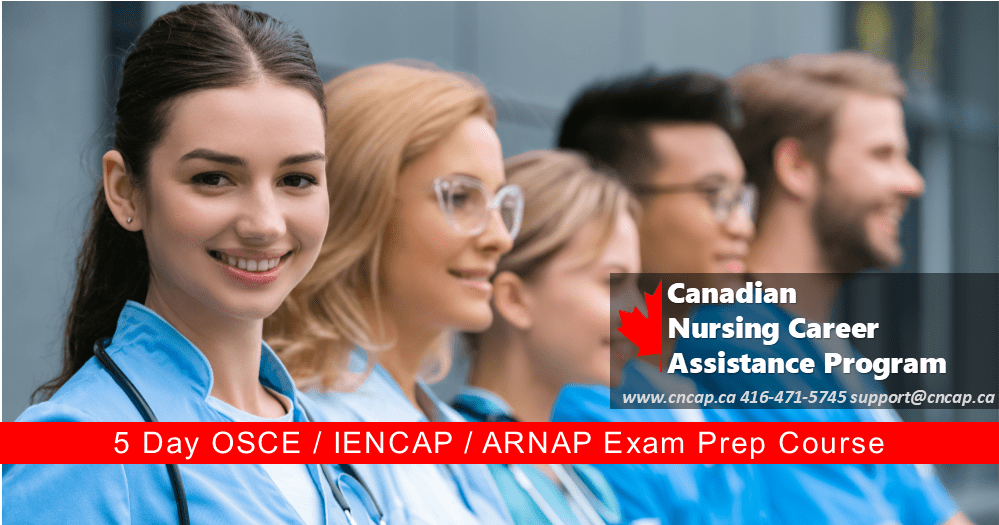 OSCE Exam Prep Course – IENCAP / ARNAP (July 2022)
OSCE Exam Prep Course – IENCAP / ARNAP
Our highly experienced instructors will lead you to success @ the OSCE IENCAP ARNAP exam. CNCAP's OSCE ARNAP IENCAP exam review class will help you get a clear understand of the underlying concepts and requirements to be successful in the ARNAP IENCAP OSCE exam.
This comprehensive program includes 2 days of theory & MCQ with rationales. This is followed by 3 days of practical's with PROFESSIONAL, STANDARDIZED PATIENTS.
State-of-the-art online technology allows you to join from anywhere in the world. I addition, students can use this technology to practice after hours!
Batch* (Please select the correct BATCH when registering)
Batch: July
| Date | Time | Topic |
| --- | --- | --- |
| Saturday, July 09 2022 | 4 pm to 8 pm EST (Toronto time) | Theory |
| Sunday, July 10 2022 | 4 pm to 8 pm EST (Toronto time) | Theory |
| Saturday, July 16 2022 | 4 pm to 8 pm EST (Toronto time) | Theory |
| Sunday, July 17 2022 | 4 pm to 8 pm EST (Toronto time) | Theory |
| Saturday, July 23 2022 | 4 pm to 8 pm EST (Toronto time) | Practicals |
| Sunday, July 24 2022 | 4 pm to 8 pm EST (Toronto time) | Practicals |
| Saturday July 30 2022 | 4 pm to 8 pm EST (Toronto time) | Practicals |
| Sunday July 31 2022 | 4 pm to 8 pm EST (Toronto time) | Practicals |
| Saturday August 06 2022 | 4 pm to 8 pm EST (Toronto time) | Practicals |
| Sunday August 07 2022 | 4 pm to 8 pm EST (Toronto time) | Practicals |
Class schedule subject to change without notice.
CNCAP reserve's the right to modify / cancel class at any time.
This class requires a minimum of 5 registration to go live