Q1.   What is the CNCAP Referral Program?
CNCAP Referral Program awards you a Referral Fee for each student that you refer who completes a course with at CNCAP and remains in good standing.
Q2.   How much Referral Fee can I make?
UNLIMITED! There is NO LIMIT to how much referral fee you can make.
Q3.   Are there any conditions for me to get my Referral Fee?
Yes. You must have completed a course with CNCAP and must remain in good standing.
Q4.   How do I refer someone to CNCAP?
Simply send them your "customized link". 
Q5.   What is a customized link?
A customized link will identify you as the referrer. It will end with "?refid=x" where x is your ID. Here is an example: https://cncap.ca/?refid=690
Q7. How do I share my customized link?
Simply add your customized link everywhere (e.g.: Facebook, twitter, any social media, website, email, etc.)
Q8. Can i share on multiple platforms?
Yes, you can share on multiple platforms. (e.g.: Email, Chat, SMS, Facebook, Twitter, Whats App, Pinterest, etc.)
Q9. How many times can i share on a platform?
You can share as many times as you want. Statistics indicate that people who share every 1 to 2 months get the best results.
Q11. What if I have referred a friend verbally?
You or your referral must declare this claim by the 1st day of the course that your referral has joint.
Q12. What if I have referred students in the past?
While we are most grateful for your referrals, this program is applicable only to referrals for current and upcoming classes.
Q13.   How do I collect my referral fees?
Referral fees are scheduled to be sent out twice a year ( June & December). Referral fees will be sent via email transfer to the email address on file.
NOTE:
It is your responsibility to update your email on file. CNCAP will not send payment to any other email address.
For any reason what so ever, CNCAP does not resend email transfer
CNCAP does not make referral fee payouts in any other format
Your referral must have completed a course with CNCAP and must remain in good standing.
There is a $5 administration fee for each payout.
In the event of any arbitrary situation, CNCAP's will remain the final decision maker.
Alternate ways of sharing
The DETAILED WAY: FIRST – log in to our website (https://cncap.ca/my-account/). If you do not remember your password, click on the "Lost your password?" link and follow instructions.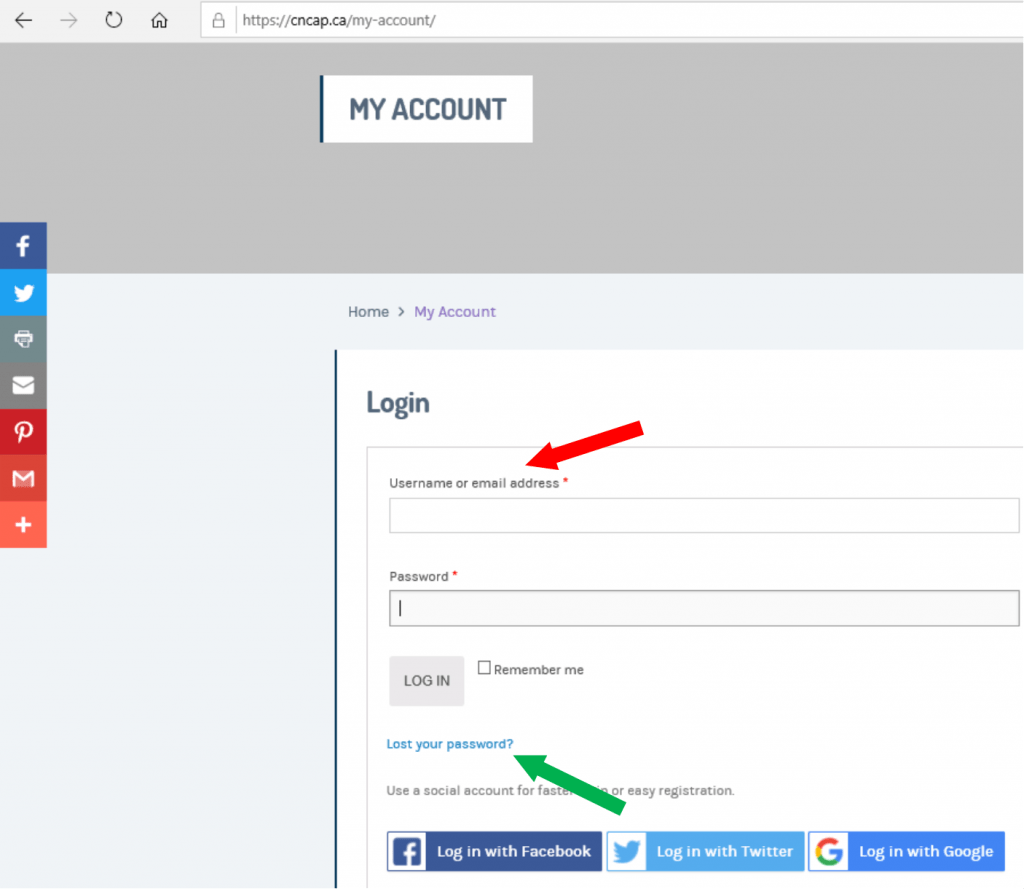 NEXT – This next step can be completed from any page on our website. Visit the page you want to share. For this example, we are using the HOME page (https://cncap.ca/).
Now click on the icon of the platform you wish to share your customized through. e.g.: if you wish to share you link with all your friends on FACEBOOK, simply click on the Facebook icon and follow instructions.
Don't see your platform? Click on the "+" icon.
NOTE: On a mobile device, these icons will appear at the bottom of your screen.
Should you have any further questions, please email [email protected]
Terms and conditions subject to change without notice. All rights reserved CNCAP Inc.